Segmental Solar Sphere: Introduction

One of the original focusing tests:"As is often the case while the big money is chasing high tech and complex solutions, you have shone a torch on where the intelligent use of comparatively low tech solutions can potentially make a big impact." (July 2008: UK power company)
This site uses shockwave flash. Download here.

Aims
This project proves a new and novel method of solar heat gathering and shows that large scale power generation is possible using grids of fixed mirrors.
New data and 3-D models: www.flyingoven.com (from 2013)

Principles diagram:
The diagram below illustrates the Series 2 principles and function tests (June 2008).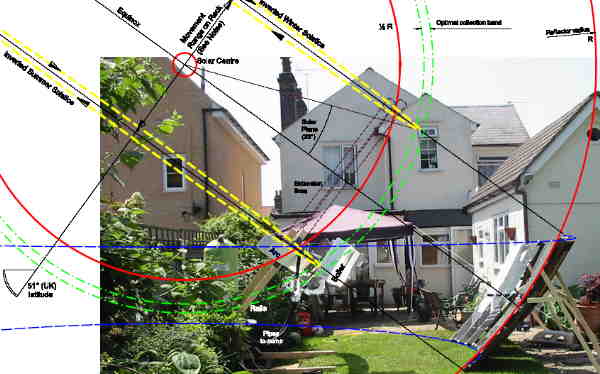 All rights reserved. All images, photographs and other image types copyright of the author. Except for the quotation of brief passages in criticism, no part of this publication may be reproduced, stored in a retrieval system, or transmitted, in any form or by any means, electronic, mechanical, photocopying, recording or otherwise, without the prior permission of the publishers. The Author asserts his moral right to be identified as the author of this work. Some portions of this work contain patented material. Some of the features described are patent pending, some are subject to registered design and/or other forms of intellectual property registration. All photographic images & video on this site are real and unedited.